CHUINI ZANZIBAR BEACH LODGE
Expansive ocean views and balmy sunsets invite guests to lose themselves in complete tranquillity. Located on the very edge of the Unguja Island where the Indian Ocean reaches the shore, Chuini Zanzibar Beach Lodge is the most voguish property to grace Zanzibar's west coast.
The lodge is set on the west coast of Zanzibar, twelve kilometres north of Stone Town, and its bungalows are spread out over a 1.5-hectare area, allowing for excellent privacy. Palm trees embellish the grounds and magnificent, panoramic sea views can be soaked in from each unit, a taste of perfection.
Chuini Zanzibar Beach Lodge comprises twelve bungalows and one villa. Each of these "open-to-nature" thatched units displays crisp white walls and linen, contemporary beach-style décor, and natural wooden elements which, collectively, evoke a sense of calm.
Dining in Zanzibar is a superb experience, made memorable not only by the beautiful surroundings but also by the exotic spices and unique flavours that are true to this region's dishes. Chuini Zanzibar Beach Lodge offers both half-board and full-board arrangements, and while guests' privacy is of highest priority, a full catering service is brought right to the doorsteps of the bungalows and the villa.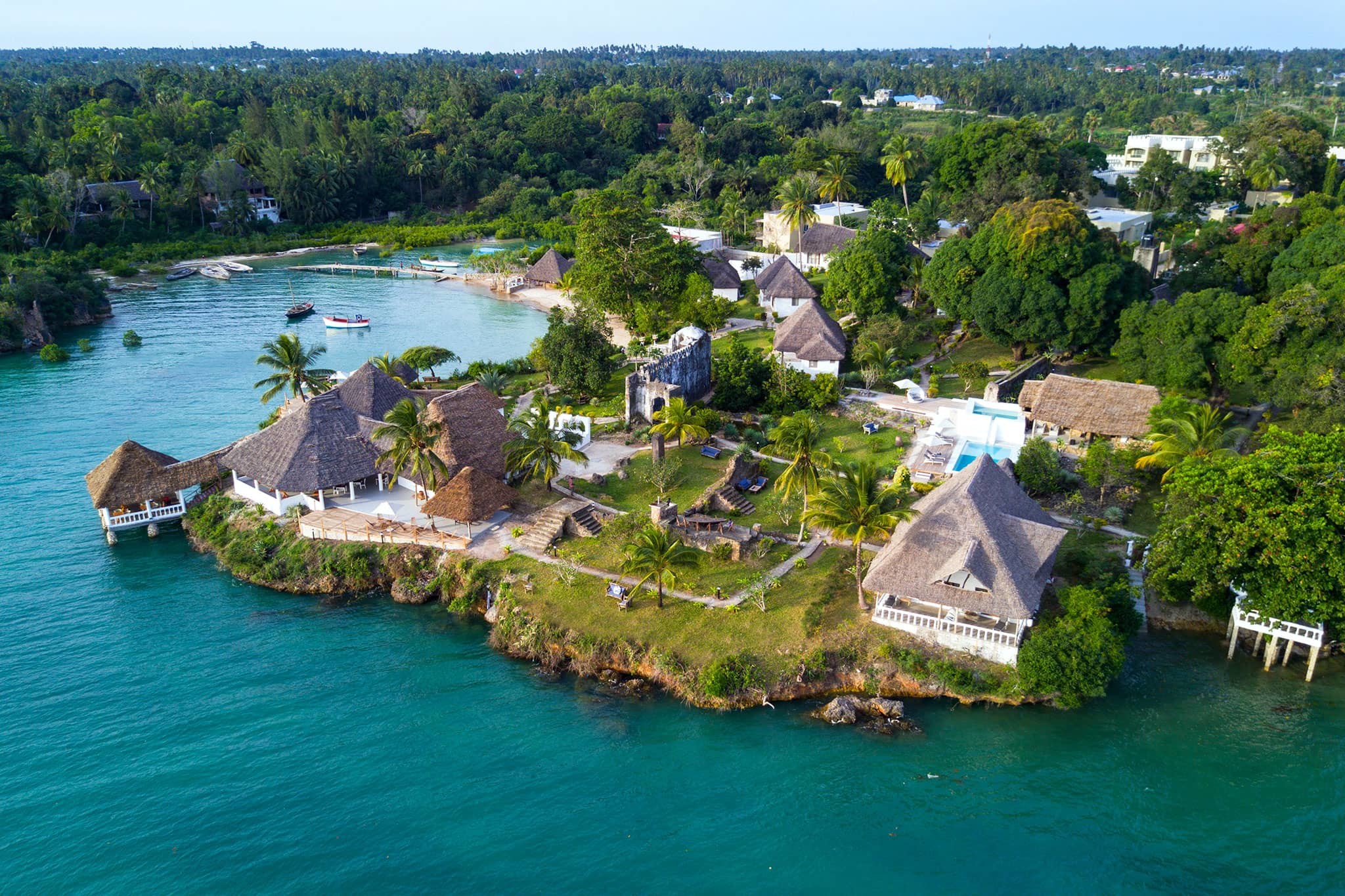 Situated in a truly unique location in the Southeast of Zanzibar on the tip of the Michamvi peninsula, Jua Zanzibar offers blissful barefoot luxury for very few, and small intimate groups. Untouched beaches, untamed nature, and warm service according to your schedule come together to create an extraordinary holiday experience.
At the heart of Jua are the 4 villas. The unique handmade furniture gives the feeling of freedom and complete intimacy. There are no windows in Jua and the villas offer a 180° view of both sea and the sky- the only protection is an invisible mosquito net of the latest design. The extra king size bed is the main feature of the villas. Its raised position in the centre of the room offers a breath-taking view of the colours of the sea while lying down. All sheets and towels are a pure cotton of high quality to ensure maximum comfort. In the event of windy night, Masai blankets are available on your bed.
Each villa has a small private plunge pool in which guests can relax in total privacy. In your villa you will find beach towels in traditional East Africa style (kikoi), hairdryer, mineral water. All the guest amenities in your bathroom have been chosen for your body care in cooperation with Inaya Zanzibar, manufactured using an ethical and ecological approach.
Cooking is a central feature of Jua since "One cannot think well, love well, sleep well, if one has not dined well" (Virginia Wolf). Guests are not tied to any fixed schedule. Morning coffee in bed, a la carte breakfast with daily homemade products (yogurt, jams, breads). A light and inviting lunch with crudités or pasta, cheese, and grilled vegetables. Or an excellent fish or meat fillet for those who prefer a full meal.
Private pools and patios, butler style service ensure you dictate the rhythm of each day.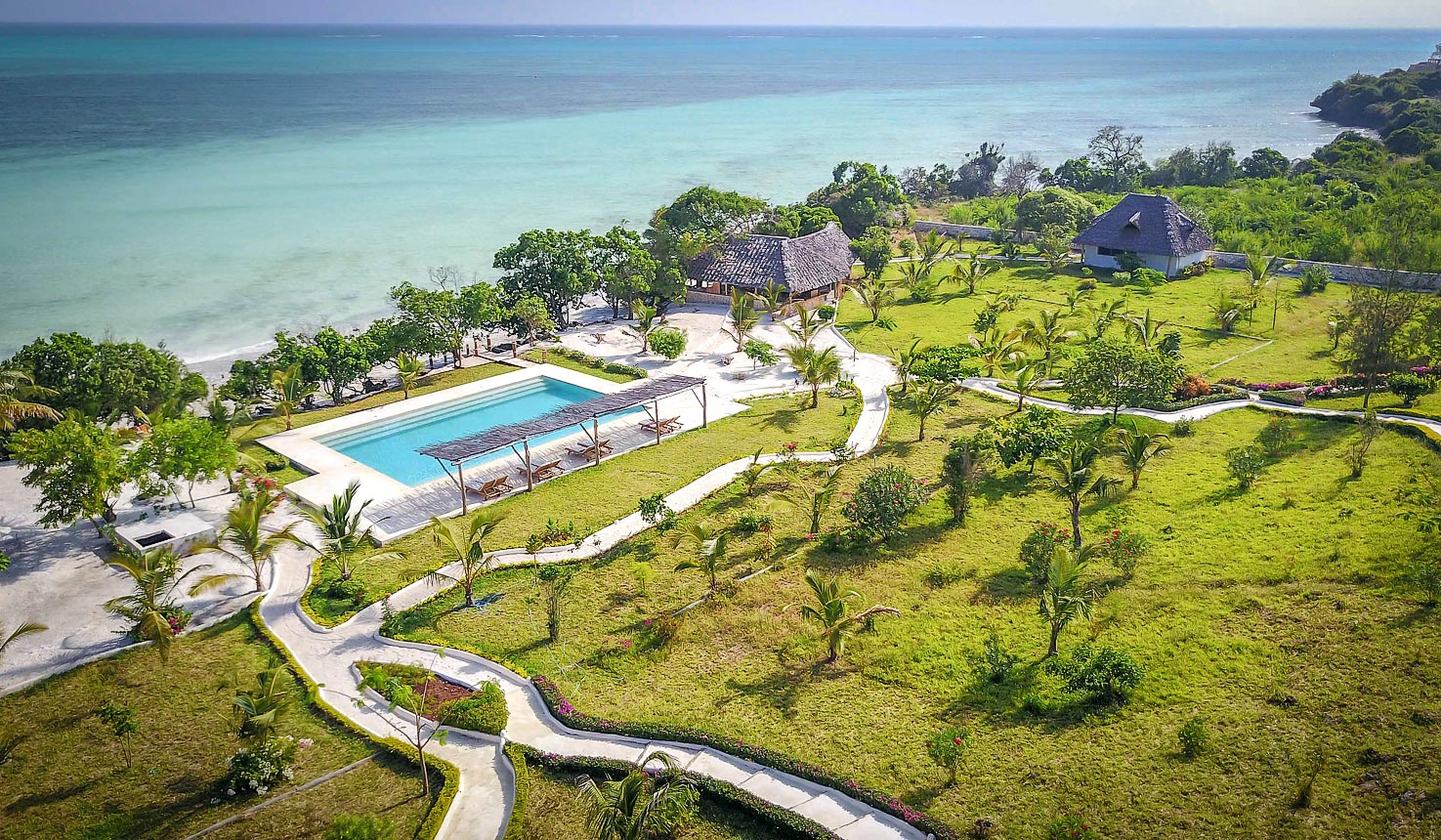 Hekaya is an extraordinary boutique directly overlooking the spectacular Michamvi Pingwe beach on the Southeast Coast – on one of the most beautiful beaches of Zanzibar. The elegance of the traditional Swahili style of Villa Hekaya will live you an unforgettable holiday. The small size of the hotel and the attention of its staff guarantees a personalized and tailored service to satisfy all the guests' needs.
The Villa has an area of 850 square meters with beautiful tropical gardens looking out at the spectacular Indian Ocean. Hekaya has three family bedrooms that are 45 square meters on the ground floor and two double bedrooms that are 35 square meters on the first floor. All the rooms have private verandas with an ocean view where you can enjoy the sunrise, the magic of the tides and the beautiful colours of the ocean. They are all furnished with a king size bed, air conditioning, circulating ceiling fan, safe deposit box, en-suite bathroom that supplies guests with a hair dryer, shower gel, shampoo and body lotion, beach bag with towels, hats, and sarongs.
On the ground floor there is a lounge bar, a library, games area, ocean view swimming pool, public bathroom, garden restaurant and a private beach with sunbeds. On the first floor there is a lounge and an ocean view restaurant.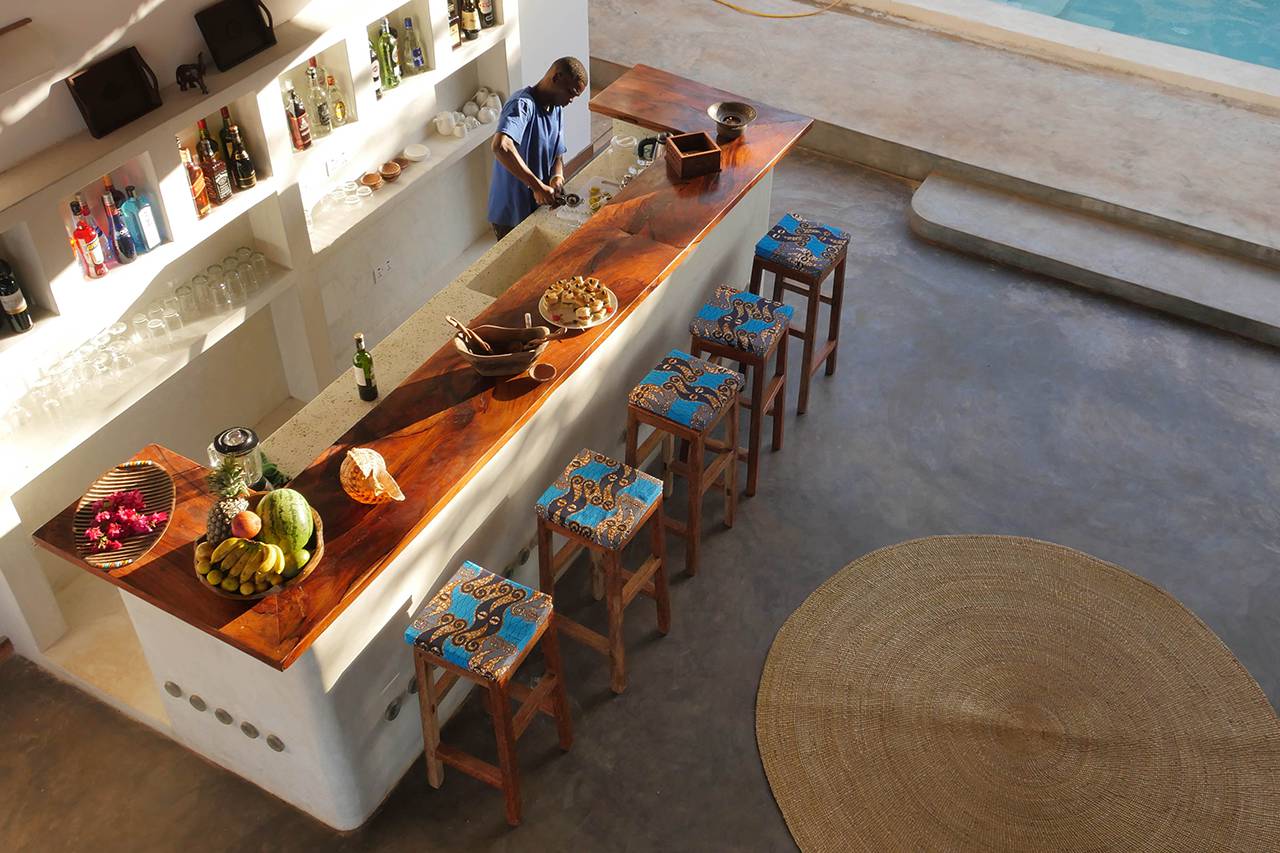 This small, charming hotel has been welcoming guests to experience the simplicity and serenity of the Zanzibari lifestyle, since 2004. A beachfront haven of tranquillity situated on the northern tip of Zanzibar, overlooking the beautiful turquoise coastline of Nungwi.
Individually styled cottages are set in lush tropical African gardens, surrounded by coconut palms, frangipani flowers, avocado and banana trees, aloe vera and of course flame trees. Each room has a spacious veranda and is individually decorated with a blend of locally made Swahili wood furniture, traditional Zanzibari beds and antique pieces.
Take a dip in our garden pool, laze on your veranda or hammock before ambling through the garden gate to explore the beach, snorkel or swim or enjoy a dhow sail. It's like living in a lush tropical garden on the beach.
Flame Tree has a deep commitment to the local community. The majority of its staff are from the local fishing village of Nungwi. The owners are passionate about using local suppliers and local labour was used for the construction of the hotel.